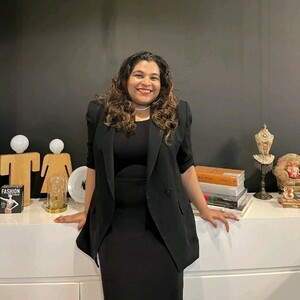 Sales and Marketing, Istituto Marangoni
More about Carmen Pereira
I am Carmen Pereira, a driven professional with a diverse background and a passion for the world of business and luxury. My academic journey began with the successful completion of a Masters in Bioanalytical Sciences from Ramnarain Ruia Autonomous College. During this time, I had the privilege of interning at the esteemed Institute of Chemical Technology, which provided invaluable insights into laboratory work. However, I soon realized my heart lay elsewhere, leading me to make a pivotal shift into the dynamic field of Sales.
My foray into sales commenced with Domino's, where I honed my skills in a fast-paced F&B environment. However, it was at FAD International Academy, specializing in Fashion, Luxury Design, Styling, Photography, and Business, where I discovered my genuine passion for Marketing. This epiphany led me to pursue a professional MBA at NMIMS, specializing in the same field.
I subsequently assumed the roles of Sales Executive and LinkedIn Content Administrator, gaining hands-on experience and expertise in my chosen field. My journey then took an exciting turn when I received an offer from the prestigious Istituto Marangoni - The School of Fashion, Art, and Design. Here, I had the privilege of representing a globally renowned institution that epitomizes not only luxury but also unwavering passion for the profession.
My responsibilities at Istituto Marangoni included engaging with students, parents, and career counselors at various career fairs, further enhancing my interpersonal and networking skills. These experiences ignited my true passion - entrepreneurship.
Driven by this passion, I embarked on a venture alongside a close friend, establishing a bespoke luxury jewelry business specializing in exquisite gold and diamond creations. I am enthusiastic about connecting with individuals who share an interest in our unique and personalized offerings.
I invite you to reach out, connect, and explore the world of luxury jewelry with me. Together, we can forge meaningful connections and pursue our shared interests in the realm of luxury and business.
Featured speakers at eChai events