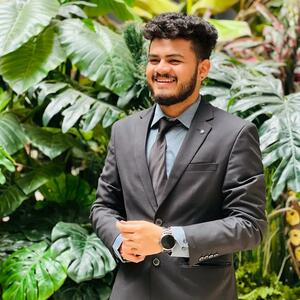 I am Raj Prajapati, i am the founder of spes med lifesciences private limited. I am from Ahmedabad and my motto is to contribute towards the better healthcare.
More about RAJ PRAJAPATI
I am Raj Prajapati, the proud founder and CEO of Spes Wellbeing. With a background in B.Pharm and Pharmaceutical Management from the prestigious NMIMS, Mumbai, I've cultivated a deep understanding of healthcare. At Spes Wellbeing, we're not just a company – we're a mission-driven D2C Nutraceutical brand committed to enhancing your well-being. Our journey is centered around addressing common yet crucial issues, from hairfall and PMS to skincare, weight management, and sleep cycle harmony.
What sets us apart is our unwavering dedication to your health, longevity, and happiness. Our products fall under the category of dietary supplements, offering you a natural and sustainable path to wellness. Unlike traditional medications that might carry potential long-term side effects, our dietary supplements are designed to support your health journey over the long run without adverse repercussions.
Innovation is the cornerstone of our approach. We've meticulously crafted each formulation to be not only effective but also enjoyable. We believe that taking care of your health shouldn't feel like a chore – it should be an exciting part of your daily routine. Our innovative blends make the experience not just palatable, but pleasurable.
At Spes Wellbeing, our mission is clear: to bridge the gap between traditional medications and their potential side effects over time. We offer a safer alternative, allowing you to prioritize your health without compromise.
Featured speakers at eChai events