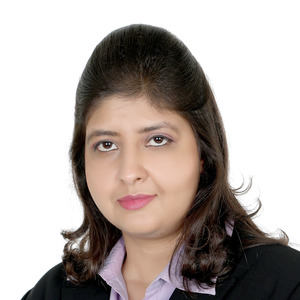 NLP Coach | Soft & Behavioral Skills Trainer | Learning & Organizational Development Consultant
More about Shruti Misra
Coach Shruti is a Soft & Behavioral Skills Trainer & Coach. Her current venture is named Entrenador Consulting (OPC) Private Limited. Furthermore, Shruti has about 10 years' of work experience in various sectors and organizations ranging from MNCs, MSMEs and non-profits, handling Corporate and International HR profiles.
Through Entrenador Consulting, Shruti is introducing the concept of NLP for Business at organizational level for the very first time in India. Shruti is also one of the first lineages of Dr. John Grinder's NLP programs in India and has been trained by none other than Mr. Mohamed Rafi, international trainer & transformational coach.
Prior to starting Entrenador Consulting, Shruti has been the Co-founder & CEO of Adynor Technologies Pvt Ltd.. Adynor is a Bangalore based e-Learning venture, specializing in giving live IT project experience to students from 2nd, 3rd & 4th Tier cities and colleges respectively for 2 years. Shruti has also been an eChai Lead Volunteer for Bangalore, India.
She works with new ventures, MSMEs and non-profits. Coach Shruti also works with individuals to help gain more efficiency in their professional and personal goals.
Shruti has acquired internationally recognized certifications from USA such as John Grinder's NLP Master Practitioner and Diploma in Training from American TESOL, USA.
Shruti is part of many societies and networks across India such as GRA network, Toastmasters International, SHRM, eChai, National Entrepreneurship Network, to name a few.
Shruti's training programs have been recognized by various IBM Partners and colleges in Bangalore and Chennai.
Shruti specializes in facilitating following (and not limited to) workshops in:
- NLP (Neuro-Linguistic Programming) for business
- Emotional Intelligence
- Sales & Marketing
- Branding
- Peak Performance
- Curing phobias and fears (both at personal & professional level)
- Personality Development programs
- Campus to Corporate programs
- Business etiquette & writing
- Presentation skills
- Entrepreneurship & Leadership Development
You can also visit our blog: http://entrenadorconsulting.blogspot.in/ to learn more about our activities.
Shruti can be further reached at [email protected] or on her mobile - +91 76000 18930 (call during day time please).
Featured speakers at eChai events
eChai Business Partner Program helps businesses and organisations get visibility and engagement within the eChai network.
Preferred eChai Business Partners
About eChai Business Partner Program:
eChai Business Partner Program helps businesses and organisations get visibility and engagement within the eChai network.
Key benefits:
Engagement at relevant in-person eChai Meetups (~4 meetups/year)
Listing on preferred eChai Business Partners page (1 year duration)
Feature on eChai.Ventures
eChai Business Partner program starts with Rs. 50,000+GST per year.
You can reach out to Jatin Chaudhary, Co-Founder, eChai Ventures over
WhatsApp
or over email at
[email protected]
to explore more about it.