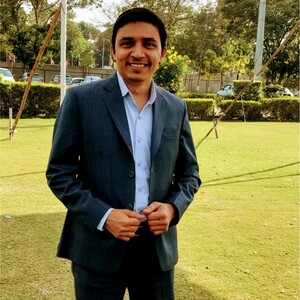 More about Abhinay Vyas
I am a Bachelor's in Computer Science (B.Sc.) graduate from South Gujarat University with a Master of Business Administration (MBA) specialized in marketing from North Gujarat University.
In totality, I hold a corporate experience of nearly 18 years. I had an experience of working with sectors like pharmaceuticals for a short span and majorly into non-banking finance companies like GE Money Financial Services Ltd., Cholamandalam DBS (Development Bank of Singapore) Finance Ltd and Max New York Life Insurance Co. Ltd in Surat.
I am a hard-core and energetic sales professional with a core expertise in setting up a business process, improving them to ensure highest productivity along with Channel development and management and understanding the money lending business.
I spent my major stint with HDFC Credila Financial Services Ltd. HDFC Credila happens to be India's 1st dedicated education loan company. I joined this company in April 2010 as a Sales Manager and got elevated through multiple promotions and finally was heading the Ahmedabad Location as an Assistant Vice President - Sales. After a successful and fulfilling innings at HDFC Credila for 13 plus years., I decided to explore new opportunities for myself and embark on a new journey with a goal to set up something of my own and also to create opportunities for others.
Key Skills and Achievements:
Channel Relationship Management: Over nearly two decades in the industry, I have cultivated and nurtured relationships with an extensive network of educational institutions, financial advisors, and other key stakeholders. These relationships have consistently proven instrumental in expanding the reach of education loan products and increasing market share.
Sales Excellence: My consistent achievement of sales targets, year after year, is a testament to my sales acumen. I have a proven ability to identify opportunities, develop effective sales strategies, and lead high-performing sales teams to success.
Market Expansion: Through strategic planning and execution, I have played a pivotal role in expanding the presence of education loan offerings into new geographic regions and market segments. This has resulted in significant revenue growth and market penetration.
Product Knowledge: My deep understanding of education loan products, financial regulations, and market trends enables me to provide expert guidance to clients and colleagues alike. This knowledge has been pivotal in driving informed decision-making and customer satisfaction.
Team Leadership: I have a track record of building and leading motivated sales teams, fostering a culture of collaboration and continuous improvement. This leadership has resulted in increased team productivity and overall organizational success.
Client-Centric Approach: I prioritize the needs and goals of clients, consistently delivering tailored solutions that meet their financial requirements. This approach has earned me a reputation for exceptional customer service and long-lasting client relationships.
My dedication to excellence, strong industry relationships, and comprehensive knowledge of education loans make me a valuable asset in the education financing sector.
Featured speakers at eChai events