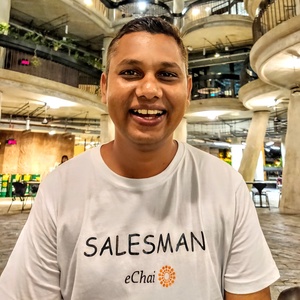 Salesman @eChaiVentures l Good at managing WhatsApp groups n organizing high quality, large gatherings at low cost :-) l Observer l Fmr Global Shaper @WEF
More about Jatin Chaudhary
Jatin is the Co-Founder & Salesman, eChai Ventures, an offline-online Startup Social Network.
Jatin has conceptualized & hosts - eChai programs across 40+ cities - a pioneering initiative to provide the platform to young entrepreneurs of all across India. Every month over 5000+ entrepreneurs, professionals, students, and mentors come together at various eChai programs to connect, share and collaborate with each other and most importantly to get - an eChai's #CoRise experience.
Jatin leads the overall strategy and business development of Sweetly, an incredible venture which provides economic benefits of employment to almost 50 women living in Dangs forests, Gujarat by enabling them to make handmade jewelry and selling these products into global markets.
Before starting eChai Ventures, Jatin sold long distance services in Canada while working in a call center in Gandhinagar, architectural stone products in US and European markets for while working with exports group in Ahmedabad, strategic concepts to Microsoft Corporate Teams while working with a high-end technology consulting company in Udaipur, and HP enterprise servers and Softwares to SMEs and large businesses in Gujarat while working with India's largest IT products distributor.
Jatin was selected by leading daily -Ahmedabad Mirror ( Times Group ) as one of the top 35 "Agents of Change" of Gujarat. Jatin won the GCCI-Youth Wing Business Idea Award 2011 in the presence of Chief Minister of Gujarat and leading industry icons. Sweetly, an eChai Venture was a finalist at Harvard Innovation Challenge and HUWIB - Business For Good challenge. Recently, Jatin was also selected by prestigious World Economic Forum as " Global Shaper".
Jatin holds a bachelors degree in Information Technology from Nirma Institute of Technology, an experience he describes as the most intense learning experience of his life. He was detained in the final year semester project in the year 2005 . Eventually, he completed the final semester project in 2007 which took almost 3 years! According to Jatin, during engineering days problem wasn't the lack of efforts but he was feeling inferiority complex. He really wanted to do something to respond to the problems he faced during his engineering days and hence he Co-Founded eChai Ventures.
Featured speakers at eChai events